Jewelry can add flair to an understated outfit or make a bold ensemble even bolder. Men's jewelry isn't limited to a signet pinky ring anymore, no sir. As the world progresses further into the new millennium, the alt-fashion of yesteryear have gained a foothold into mainstream culture and become everyday ornamentation. The hipper project managers at your job might sport gauged earlobes, your accountant wears a braided leather bracelet, and your website developer's septum piercing barely warrants a second glance. Wearing jewelry as a big man no longer puts a target on your back; it's simply another outlet for self expression.
Embed from Getty Images
Nathaniel Rateliff is a big man who pulls off the big jewelry look. If you're not already a fan, look him up.
With so many choices, it's hard to know where to start. And as a big man, we're always aware that the latest trends might need some adjustments in order to really interweave with our style. After all, a large canvas needs a large paintbrush. Here are a few tips to get you started with wearing jewelry as a big man.
1. Start simple.
Start by adding a single accessory to your ensemble and move forward from there: a ring, an earring, a cuff or bracelet. You're dipping your toe into the water at first, to see if you're a jewelry kind of guy. If you don't know, your true friends will certainly let you know. Or ask your boy/girlfriend what she likes. But most importantly, look in the mirror and see how you feel about it. Maybe you're a pinky-ring guy, maybe you're a diamond stud kind of man; but you won't have a good frame of reference if you throw on a lot of jewelry all at once. Keep it simple, at first.
2. Choose big pieces of jewelry.
You're a big guy and you need proportionate jewelry. Choose watches with a large dial or face (42mm and up), large cuff links, or a . If you're going to wear a diamond stud earring, make sure it's a big rock; a small stud just won't cut it.
Embed from Getty Images
You don't have to be a baller like Fat Joe to wear big jewelry, but it helps.
3. Upgrade from utilitarian to exquisite.
Sometimes the best way to branch out is with something you already wear on a daily basis. A wristwatch is the easiest place to start; it's functional and hardly considered to be a piece of jewelry but choosing the right one can make a statement and add to your outfit. A well-chosen silver or gold belt buckle can also work, as a canvas for engraving or stone inlays. If you wear a wedding ring on your left hand, add a ring to your right hand to enhance symmetry.
4. Match your metals.
It sounds like a no-brainer, but I see a lot of gold watches and silver rings out there so it bears mentioning. Much like choosing the colors for your outfit, your jewelry should have its own theme as well. A silver ring and a silver cuff work well, much the same as a gold earring and a gold watch. Black and gold are a great combination, while silver can be paired easily with non-metal adornments in blue and green. If you're looking for something more understated, try bronze or brass jewelry.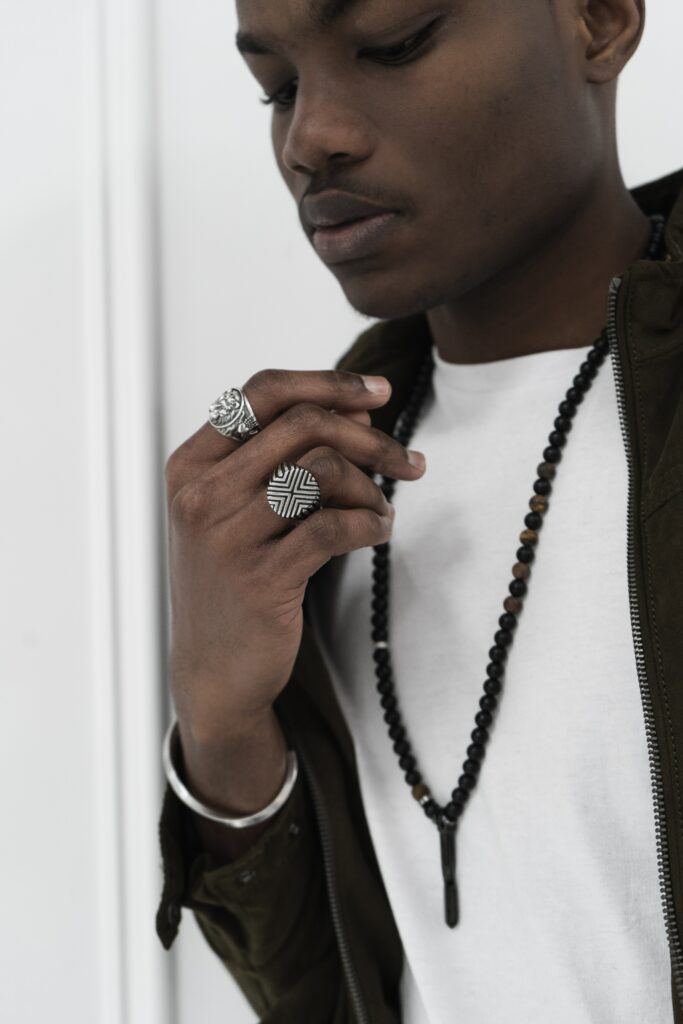 5. Compliment your existing style.
If you dress like Rip Wheeler from Yellowstone, don't opt for a gold medallion or an oversize G-Shock watch (more complimentary to streetwear styles); instead add a simple piece of western style jewelry like a silver cuff bracelet. If you lean toward more traditional menswear, buy an elegant watch with a metal watchband or an engraved tie bar. Likewise, if you favor workwear or Americana styles, a watch with a rugged leather strap may be just the compliment your outfit needs. Make sure any pieces you add work with your personal uniform (you do have one, don't you?).
6. Think outside the (jewelry) box.
Don't confine yourself to the standard places for precious metals and stones; there are a myriad of way to add a little something extra to your fit. Look into an elegant pen for your front pocket, a lapel pin, or a chain for your wallet. Your phone case and business card holder can also be upgraded to a fine silver, gold, or tooled leather variant. There's a lot more to wearing jewelry as a big man than just putting it on, so get creative.
7. Avoid kitsch.
Nothing with superhero symbols, or in the shape of an iconic cartoon character. Since you're choosing big pieces to fit your frame, spend the extra money to buy authentic pieces. Gold is good if you can afford it; fake gold can be spotted a mile away. If 14 karat isn't in the budget go for sterling silver, bronze, copper, or leather. Real turquoise and jade are undoubtedly top shelf precious stones but difficult to get without taking out a second mortgage; lapis lazuli, agate, mother of pearl, onyx, and hematite can look just as classy.
8. Own it.
As a big man, any fashion statement you make is a big statement. Don't be afraid to be bold, use color to your advantage, and play with fringe styles. If your outfit is the cake, your jewelry should be considered the cake topper. Once you've figured out what works for you, buy a statement piece that stands out: a ring with rows of diamonds, a silver railroad spike cuff from John Varvatos, a silver Hermes belt buckle. The sky's the limit.
Snap Judgements
Wear This
Let's Get Weird With It
Just… no.