A first denim jacket has a long history, dating back to only 10 years after the creation of denim jeans. It's a quintessentially American article of clothing. It comes in a wide range of colors and a good one will fit your body like a glove. It makes a great casual alternative to a sport coat but it can look sharp and cool when worn with confidence and the right outfit. The most important factor to keep in mind when buying a denim jacket is the fit, but there are also a few more things to consider: material, color, length, and outfit pairings.
Choosing the Right Fit
Torso Fit
When you first put on a denim jacket, check that it can be buttoned closed. The likelihood that you'll wear it buttoned is pretty slim, but it should look like it can be buttoned. If it looks like it can't close all the way, even though you'll wear it open, it is too small and will look too small to other people. Fat guy in a little coat is never a good look.
Shoulder Fit
Check that the shoulders are not too tight or too broad (baggy). The seam between the jacket body and the sleeve should be positioned right on the point of your shoulder. If your shoulder doesn't have a discernible point, then the seam should be positioned just at the point where your shoulder begins to round downward toward the floor.
Mobility
Third, raise your arms above your head. The sleeves should shorten up a bit, but the whole jacket should not raise up past your belly button. If it does, then there's something amiss with the construction of the jacket. The armholes of the sleeve may be too small or large, or the collar may be strangely fitted, etc. You should never choose outerwear that inhibits your mobility. What if you were to get into a scuffle down at the local honky-tonk? It may never happen, but if it does, you'll curse yourself for not being able to throw a decent jab in your denim jacket.
Sleeve Length
Once you've determined that the torso and shoulders fit, take a gander at the sleeve length. Too long? Too short? Given the chunky metal cuff button on most denim jackets, you won't want to roll them up like you would a pair of denim jeans. And if it's too short, it may look like you're wearing your little brother's jean jacket instead of the right one for you. With your arms resting at your sides, the end of the sleeve should hit your hand about one full inch below your wrist joint. This bit of extra length makes sense when you raise your arms to, say, steer a motorcycle or light your date's cigarette, and your sleeve becomes shorter. You wouldn't want to be showing all the way up your forearm, right? So we compromise on the sleeve length just a bit and cover all our bases.
Choose the Right Length
Length is important when choosing a denim jacket, especially for a big man. The bottom of the jacket should meet your belt line, maybe overlapping just a bit, but should not be too long. A long jacket emphasizes the bulk of your top half and looks more like a car coat than a hip denim jacket. The classic fit of the denim jacket is a cropped one, where the bottom just brushes the top of your waistband, much like how a bomber jacket or an Eisenhower jacket fits.
A Bit of Stretch Never Hurt
Stretch is the best thing to happen to denim since they started making jeans. No longer are you confined to bagginess in certain areas and tightness in others; if you choose a denim jacket with some stretch, it will be comfortable right from the beginning. And unlike choosing stretch denim jeans, you don't have to worry much about how a stretch denim jacket hangs because it conforms more to your body than hangs off of it.
You can find stretch denim jackets made by Levi's, Lee, and Wrangler, in a variety of cuts, with and without sherpa lining and corduroy collars. If you've shunned denim jackets in the past because of a lack of comfort, it's time to give them another try.
Color Me Bad
There are myriad options when it comes to colors for a denim jacket, just like jeans. And my opinion in regards to the best colors for big men is largely the same: opt for black or dark indigo. Avoid artificial or splotchy fade jobs unless you're going for an acid-wash 1980's aesthetic. Another option is a mustard or "duck" colored denim jacket, which has a decidedly heritage Western look to it. And a light blue denim jacket can look great paired with darker colored denim jeans and a trendy shirt underneath.
If you have to pick one to start, go for a dark "raw"-looking indigo. It will fade over time to reveal contrasting creases in the elbows and arms, eventually becoming an item of outerwear that is distinctly your own.
Consider the Outfit
The Canadian/Texas/Green Bay Tuxedo. The Kentucky Court Appearance Suit. The Double Denim Dan. Call it what you want, wearing a denim jacket and denim jeans in the same color realm makes a statement. And it's not a good one.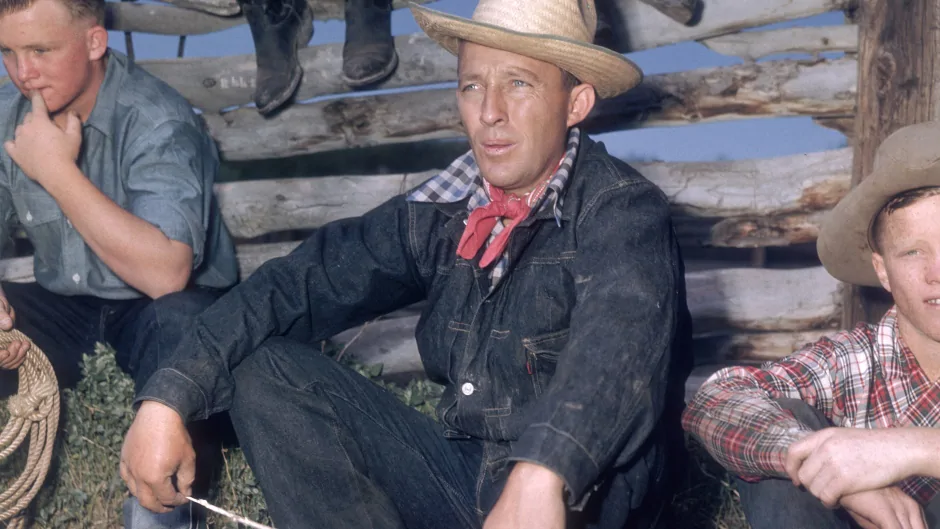 So unless you are cosplaying as Bing Crosby circa 1951, make sure to mix your denim colors. Here are a few acceptable combinations.
Black denim jacket + dark blue denim jeans.
Blue denim jacket + black denim jeans.
Light blue denim jacket + (very) dark blue denim jeans.
Black denim jacket + black denim jeans.
Mustard (duck)-colored denim jacket + black/blue denim jeans.
Black denim jacket + black denim jeans (yes, this is double-denim in the same color, but this combination is acceptable as long as it's not faded black).
Or, better than any of the above denim mixing idea, pair your denim with a different color and texture altogether.
Black/dark blue denim jacket + tan chinos.
Black denim jacket + charcoal gray pants.
Blue/mustard denim jacket + olive chinos.
Mustard (duck)-colored denim jacket + black cotton slacks.
Light blue denim jacket + charcoal gray pants.
Versatile and Fun
Denim jackets can be dressed down with a t-shirt underneath or dressed up with a button-down shirt. They can be crumpled and casual or pressed/steamed to be presentable for any date or dinner at a hip eatery. It can work in Western, streetwear, prep/Ivy-League, and retro outfits. It works in Spring and Fall. When paired with a simple t-shirt, a denim jacket is cool enough for a mild summer. It can be layered and worn warmly with flannel or a sweatshirt in winter. Don't overlook the jean jacket when looking for new outerwear this season. If you like it, consider making it part of your personal uniform.
Recommendations
I have personally bought and worn each of the items below. In terms of all-around stylishness, color, and fit, I LOVE the Lee denim jacket in "Strong Arm" color. It's a dark, raw-looking indigo. The jacket itself has some stretch and fits my body type well, and it's cropped nice and high. The only unfortunate thing about it is that it only goes up to a 2XL size, which just doesn't cut it for most of my readers and myself.
Runner up is the Levi's black trucker jacket which, depending on what color you choose, may or may not have stretch. It's a classic cut but not really designed for big men; I find it bunches up in places as I move around and the trucker jacket is notoriously small for their sizing, so go one size up if you're giving it a try.
Lastly, the Wrangler unlined denim jacket, which has no stretch but doesn't need to for me; it fits my body like a glove. The "black" color is actually a very dark blackish indigo that fades into blue over time. If you've got a large belly and large shoulders, give the Wrangler one a try.
Wear This