Looking for more personal uniform examples? Maybe the last 5 didn't do the trick. It can be a challenge to find something that works for you day in and day out. We've got you covered; check out these personal uniform examples that will have you turning heads and flexing all over the neighborhood.
Jump to The Personal Uniform Examples
1. Retro Heritage Japanese Hiker Personal Uniform Example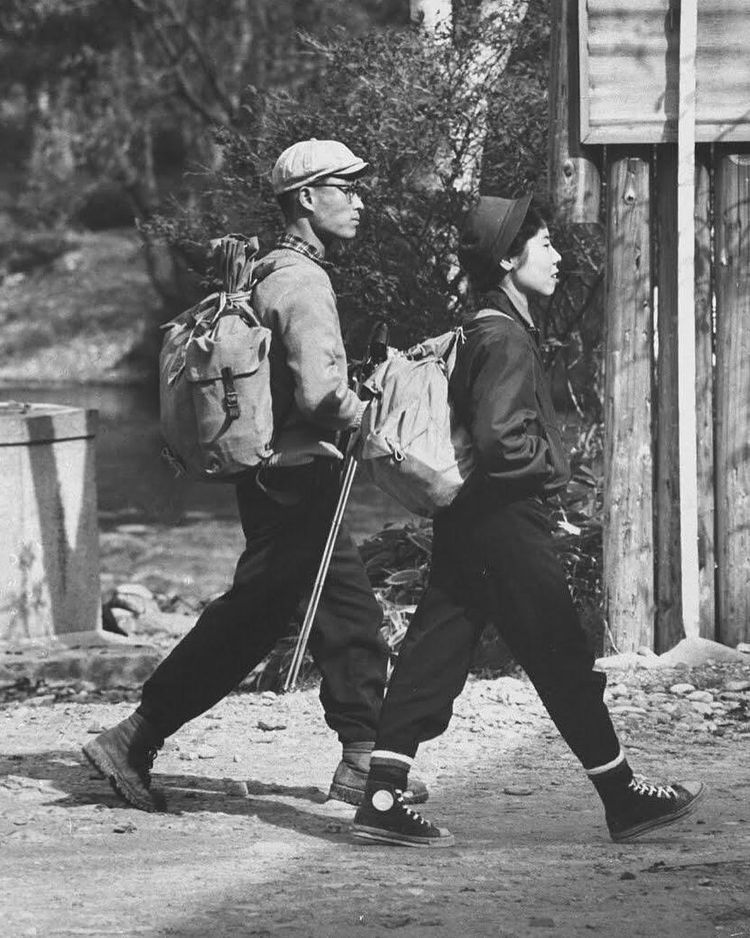 Quality over quantity. Layers to accommodate all kinds of weather, from misty mountains to sunny coastlines. This look is all about understated cool in an effortless and slightly geeky way. Enough said, just take a look.
The Gist
Bucket hat, sweatshirt (or down jacket if cold), chambray shirt, raw denim (cuffed), leather hiking boots (or boutique converse-like sneaker).
Extra credit: horn-rim glasses, Casio digital watch, backpack.
Author's personal note: The Converse Chuck 70 sneakers are head and shoulders above all other Converse All-Stars sneaker in terms of quality and comfort. I can't recommend them enough. If you have a Converse outlet near you, they can be found for ~$45 and are a steal at that price. I bought mine on eBay for $95 in a few rare colorways and they're my favorite sneakers. Classic vintage basketball shoe vibe that looks great for your Ramones cosplay.
2. Summertime (and the Living is Easy)
It's too hot for fashion… or is it? There's more to summertime fashion than wearing as little as possible. Florals and other prints can elevate a simple outfit to new heights. Be the most put-together guy at the pool party with a few adjustments to what you probably already wear during the summer heat.
The Gist
5-panel cap, pattern t-shirt or polo, short-shorts, no-show socks, boat shoes or canvas low-tops.
Extra Credit: Slim watch with perlon strap, sunglasses, handheld fan.
Author's personal note: I had the great luck to be able to pick up some 28 Palms aloha shirts in great prints that have some stretch to them a few years ago, but, alas, they are no longer making most of their bigger lines of shirts. If you find them on eBay, they run true to size and you won't regret picking them up.

Of all the shorts below, the Lee's have the most stretch but aren't quite as short as I'd like. Instead, buy these Mutual Weave Big & Tall shorts from JC Penney's. I'm literally wearing them as I write this.
3. Aloha! Personal Uniform Example
A big guy in an aloha (aka Hawaiian) shirt can be cliché if you don't choose the right shirt print and accompanying outfit. Look less like Dennis Nedry in Jurassic Park and more like John Candy in, well, most of his movies. You can still be a big party animal, you'll just won't seem like you're dressed for a costume party.
The Gist
Straw hat, aloha (Hawaiian) shirt, well-fitting shorts in a solid color, espadrilles or birkenstocks.
Extra Credit: bead bracelet, sunglasses, hidden suspenders.
Author's personal note: The Stetson Latte Milan straw hat is a great all-around summer hat. It doesn't look out of place by the pool or in a club, and it goes well with shorts and chinos. More importantly, it will keep you from crisping up like a Peking duck in the midday sun.
4. Modern Cowboy Personal Uniform Example
I'm originally from Texas where it's not considered "out there" to wear a felt or straw "cowboy" or "western" hat as part of your daily uniform, but I will concede that it gets looks in other parts of the country. What will get the right kind of look, though, no matter where you roam, is adding subtle western flair to your outfits. It doesn't so much scream "Yee-haw!" as it whispers it while a Hank Williams song plays softly on the bar's jukebox.
The Gist
Trucker cap, denim or canvas jacket, western yoke button-up shirt, chinos (if denim jacket, in grey or khaki), jeans (if canvas jacket – dark blue or black), cowboy boots.
Extra Credit: felt or straw cowboy hat, belt buckle
Author's personal note: I have owned all of these snapbacks and both of the felt hats below. The Stetson Skyline is a great all-around entry hat for that true western look, but the Stetson snapback is also a very fine quality. Every man should own a Stetson and snapbacks count!

A brief note on the subject of boots (I could write for hours about them): you should really try a bunch of them on in a real western store before committing what can be a few hundred dollars to the right pair. While many people trash their non-USA construction, the Ariat Heritage Roper boots below are the most comfortable boots I've ever owned, beating out many pairs of Lucchese, Tecovas, and Rujos I've tried on. There's something about the wide fit and insole that makes them feel like a sneaker.
5. Lumbersexual Personal Uniform Example
The consummate manly-man outfit, you can look like you fell trees with your mighty axe and model for paper towel packaging without all that pesky callous-creating work. Embrace the flannel and get yourself a cabin up in the woods (with wi-fi, of course).
The Gist
Filson (goes up to 2XL) or otherwise rugged jacket, plaid flannel shirts, dark denim, Red Wing boots.
Extra Credit: leather suspenders, a pipe, and beard oil for your thick, luxurious face-mane.
Author's personal note: It is unfortunate that Filson, Barbour, Pendleton, and many other heritage brands only go up to 2XL; they're leaving my money (and many other big men's money) squarely on the table by making that choice. Oh well.

The Wrangler fleece shirt is light enough for autumn/spring and has a lot of stretch. It also runs pretty large for the sizing, so I highly recommend these.

And while nothing really compares to Heritage-series Red Wing boots (I have bought and sold many pairs) in terms of thick leather and bulletproof stitching, I can easily recommend the Eastland Lumber Up boots as a viable less-expensive and more immediately comfortable alternative.
What Lies Beneath the Clothes
More important than the clothes that one chooses is the attitude and confidence one possesses to pull them off. But it's easy to see that the confidence can be boosted by selecting the right personal uniform for you; one that is your style and a good expression of who you are. Experiment with your personal uniform and find out what works for you. Pretty soon you'll be known as someone your friends can come to for style advice.